The New River Valley is the community we and many of our members call home. It is important to the NRVHBA to give back. In fact, it is our part of our mission. The NRVHBA gives back to the community through initiatives including, but not limited to:
Scholarships for graduating high school students who are pursuing secondary education in the construction industry at Virginia's Colleges, Trade Schools and within Working Internships. Learn more here.
Charitable donations and activities with partnering organizations throughout the NRV.
Our workforce development committee, which is actively working with partnering organizations and the area's public and post-secondary schools to further trades education and construction career awareness
And more!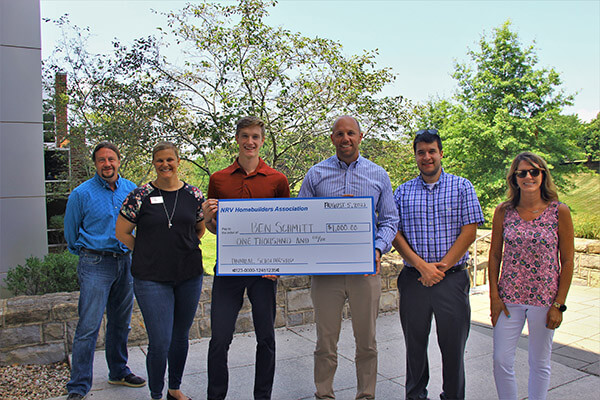 LEGO Home Building Contest Showcases Creativity and Skill at 2023 NRV Home Expo
The New River Valley Home Builders Association (NRVHBA) is excited to announce the winners of their LEGO Home Building Contest that took place at the 2023 NRV Home Expo April 1-2 at the Christiansburg Rec Center. Kids ages 4-17 from throughout the New River Valley were invited to submit entries of their best custom home creation.
Over 40 entries were received, and Best in Show winners were chosen from among three age groups. Entries were judged at the 2023 NRV Home Expo by NRVHBA members. Each entry received scores based on Overall Design, the Best Use of LEGO Elements, and the "Cool Factor" (overall creativity and originality). An award was also given for the People's Choice. Attendees at the NRV Home Expo were invited to vote for their favorite entry. Each age group winner and the people's choice winner received a custom-made medal, a $50 gift card, and a free copy of The House That She Built, a book that educates young readers about the people and skills that go into building a home.
Winners were announced at the NRV Home Expo on Sunday April 2nd, by Jason Hardy, an NRVHBA Board Member and representative from the event sponsor, Carter Bank & Trust. "Carter Bank & Trust is once again proud to sponsor the NRVHBA LEGO Home Building competition. On behalf of our associates throughout the New River Valley I'd like to offer congratulations to everyone who entered their projects. It's obvious that a lot of hard work went into creating some amazing and creative homes," said Hardy.
Winners of the contest were:
Best in Show, ages 4-6: Sophie, Age 5
Best in Show, ages 7-10: Lilly, Age 7
Best in Show, ages 11-16: Luke, Age 14
People's Choice Winner: Jonathan, Age 11
The NRVHBA congratulates all the winners and thanks all of the participants for submitting entries.
The New River Valley Home Builders Association is a professional trade organization serving the building community by advocating for the construction industry; educating, supporting, and promoting our members; and giving back to the New River Valley.